General info 
Rembrandt is the quintessential elegant casino that combines style, charm, and sophistication to provide players with a unique experience that will leave them reeling in their seats. This doesn't solely boil down to the casino's classically-sensational website design. Still, it is also evidenced by a mixture of flamboyant and reliable perks that will be unpacked later.
Leading the online casino and sportsbook scene ever since its inception, Rembrandt Casino was founded in 2009, and it is licensed by the Malta Gaming Authority (MGA). Its global reach warrants the inclusion of a hefty six languages; English, German, Norwegian, Finnish, Russian, and English (Canadian).
Design and Layout
As if opening an enticing box of chocolates, upon opening Rembrandt's website, players are greeted with a resounding display of offers and promotions that will instigate their hunger for online gaming. In the background, the promotion's colors illuminate the entire website. This changes frequently, and it gives the impression that Rembrandt is very much as alive as the players that use it.
A moving banner, hugging the lower part of the aforementioned section, showcases player winnings in the form of 'Rembrandtplayer won [€100,000] on Starburst'. This demonstrates the different wins that potential newcomers are capable of walking away with, but it also offers other players game suggestions that might net them their next big sum.
Underneath that, different genres of games are on full display, neatly categorized as follows; New Games, Aurum, Popular, Favorite Games, Jackpot Games, and All Slots. At the very bottom, a quick rundown of Rembrandt Casino is detailed for the players' interest.
Rembrandt Casino Games and Providers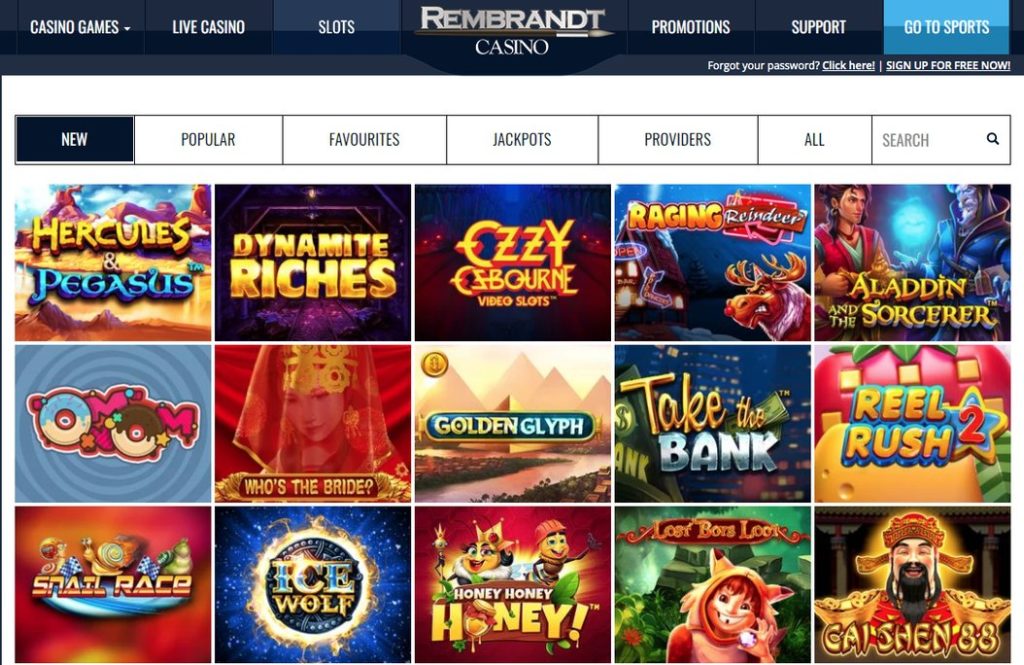 An online casino's game selection speaks volumes about the casino itself, and this is the case with Rembrandt. A game selection of over 2,000 games from more than 30 game providers was chosen to state each potential gaming genre, style, or custom that exists. Navigating through such a selection might sound daunting. Still, the website designers seemed to have anticipated this by developing a clear-cut way for players to browse and select the games they fancy.
The different types of games Rembrandt Casino offers consist of the following; slot games, progressive slots, tables games, video poker games, and scratch cards. Players who have an itch for the 'live' element to their play can make use of Rembrandt's live casino that is powered by NetEnt and Pragmatic Play. Video poker is also on the table, with Hacksaw's Aces & Eights.
Sportsbook
No casino is greater than the sportsbook segment of players, and, as should be no surprise by now, Rembrandt has incorporated this section into its online casino to full effect. Being the driving force of sports-related betting, soccer or football takes precedence at the top of the website's Sportsbook section, with a plethora of sports following underneath.
Players who prefer fantasy to reality aren't left empty-handed. Rembrandt has various virtual sports games, including; Instant Trotting, Instant Speedway, Instant Horses, Instant Greyhounds, and Instant Football.
Rembrandt Casino Bonuses and Promotions
Rembrandt's promotions are not only numerous but also extremely easy to navigate through. The section is further subdivided into 6 categories; All Promotions, Weekly Promotions, Hot, Tournaments, Other and Welcome Bonuses. The importance of these promotions never feels downplayed in Rembrandt since they are developed in meticulous fashion and added regularly as a way to constantly keep players' experiences fresh and exuberant. As is always the case, the website's design never fails to spark players' curiosity through sleek designs and different colors.
Welcome bonuses is Rembrandt's way of embracing new players with open arms. Players have two options to choose from; either a welcome bonus of 100% up to €200 to use on the casino or a welcome bonus of 100% up to €100 on the sportsbook section. Either option guarantees the warmest welcome possible to new players.
Payment Options
Rembrandt offers players more than 20 different payment methods, including credit cards and e-wallets, through which they can deposit and begin their lucrative escapades. The minimum deposit amount is €10, while the maximum cash-out amount hovers up to the €5,000 per month. Upon players' first withdrawal, they must verify their data as a safety and security precaution. Once this is done, players are free to request their payout.
The casino normally takes up to 2 working days to process payments through SSL encryption. These security proceedings are aligned to the MGA's regulations.
Customer Support
Rembrandt's customer support does not fail to back up the top-notch quality that encases its online casino. The FAQ page is the first step that players are encouraged to use to squash minor problems that they might have. This section is extensive- so much so that it required a further subdivision of categories; About, Account, Bonus, Contact, Financial Queries, Games, and Sportsbook. Each category consists of a comprehensive list of queries with a solution detailed directly beneath them.
Three solutions remain should players remain unsatisfied with the FAQ section; filling in a Contact Form from the contact page, contacting the reliable customer support via email (support@rembradtcasino.com), or making use of the live chat option which is stationed at the bottom right-hand corner of the website. Each option warrants a professional response from a support team that is itching to iron out any potential hiccups that players might experience throughout their experience with Rembrandt.
Conclusion
There are few other online casinos like that of Rembrandt. It intertwines the elegant with the professional and the stylish with the efficient. The extremely vast selection of games from top-notch providers are bound to interest all spectrums of players, and should any difficulty arise during their stay at Rembrandt Casino, exemplary customer support is ready to bounce into action and squelch the crease.